Company/Organisation:
Rashtriya Sankrit Sansthan
Advertisment Image: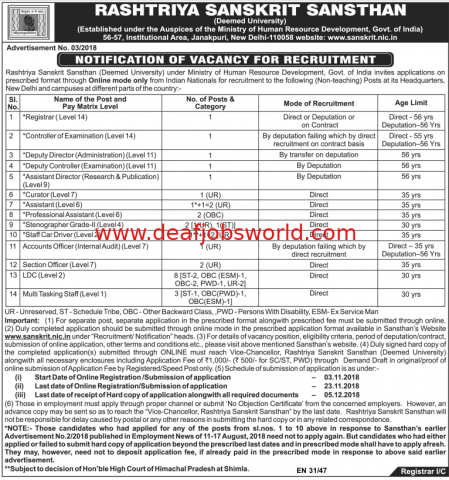 Job description :
Apply Online :click here
12th PASS / B. A PASS ( SANSKRIT KNOWLEDGE)
Skill test norms on Computer English typing @ 35 w.p.m. or Hindi/Sanskrit typing @ 30 w.p.m. (time allowed 10 minutes). (35 w.p.m. a nd 30 w.p.m. correspond to 10500 KDPH and 9000 KDPH respectively on an average of 5 key depressions for each word.)
Note : Date/Schedule of Skill Test/Written Test/Interview/Syllabus/Selection Criteria and scheme of examination (as applicable) will be displayed on Website www.sanskrit.nic.in . However, Date/Schedule of Skill Test/Written Test/Interview can also be communicated through letter to the concerned candidates or by e - mail. C andidates should keep visiting Sansthan's website www.sanskrit.nic.in regularly for imp ortant announcement/informati on /corrigendum/notices and other details throughout the selection processes at various stages for filling up these vacant position.