Post Name:
American Sign Language Interpreters – From Home
Advertisment Image: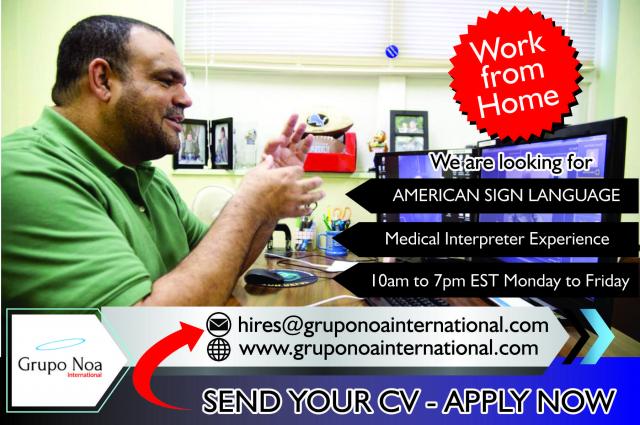 Job description :
We are looking for several American Sign Language Interpreters
Contractor requirements:
1. Are available for 8 hours per day, Monday to Friday 10am to 7pm EST.
2. Have worked doing real time interpretation before.
3. Must be Fluent in American Sign Language.
4. Internet connection of 2Mb or more. It cannot be wireless nor through a data card. You should also test that you do not have a latency of over 100ms. You can test these requirements running a simple test at speedtest.net
5. Headset: This headset can be simple, but it must connect to your computer via USB. This is to ensure proper phone behavior and call quality.
How to apply, please respond with a cover letter that includes the following:
1. The language level that you have (should be 90% or above)
2. Skype Id
3. Set appointment for an interview: http://gruponoa.levanacommunications.com/
Person to Contact Email:
hires@gruponoainternational.com