Post Name:
Material Asst, LDC, Fireman (Male only), Pharmacist, Messenger, Multi Tasking Staff and Tradesman Mate
Post Date and Last Date:
2018-10-01 00:00:00 to 2018-10-31 00:00:00
Advertisment Image: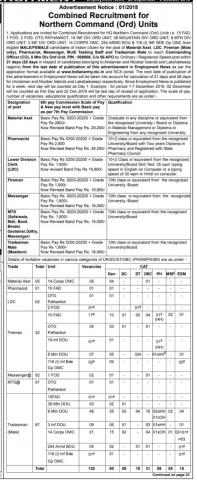 Job description :
Mode of applying for HQ Northern Command is through offline mode. 13th October 2018 is the last date to submit applications.
How to Download Application Form?
https://indianarmy.nic.in is the link to download application form and send to below given address.
Company/Organisation:
Combined Recruitment for Northern Command (Ord) Units