Advertisment Image: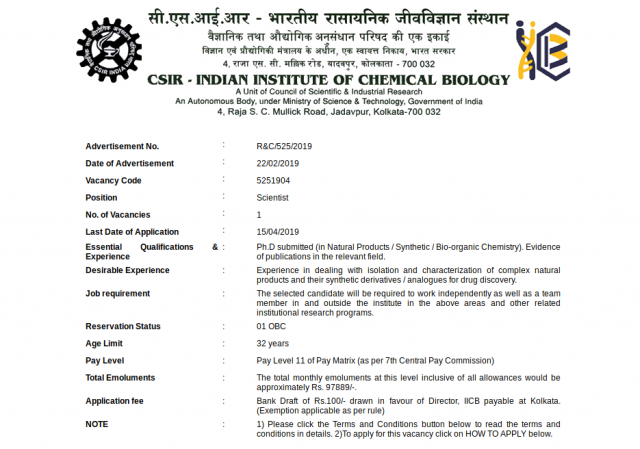 Job description :
      Advertisement No.    :    R&C/525/2019    
     Date of Advertisement    :    22/02/2019    
     Vacancy Code    :    5251904    
     Position    :    Scientist    
     No. of Vacancie :    1    
     Last Date of Application    :    15/04/2019    
     Essential Qualifications & Experience    :    Ph.D submitted (in Natural Products / Synthetic / Bio-organic Chemistry). Evidence of publications in the relevant field.    
     Desirable Experience    :    Experience in dealing with isolation and characterization of complex natural products and their synthetic derivatives / analogues for drug discovery.    
     Job requirement    :    The selected candidate will be required to work independently as well as a team member in and outside the institute in the above areas and other related institutional research programs.    
     Reservation Status    :    01 OBC    
     Age Limit    :    32 years    
     Pay Level    :    Pay Level 11 of Pay Matrix (as per 7th Central Pay Commission)    
     Total Emoluments    :    The total monthly emoluments at this level inclusive of all allowances would be approximately Rs. 97889/-.    
     Application fee    :    Bank Draft of Rs.100/- drawn in favour of Director, IICB payable at Kolkata.(Exemption applicable as per rule)    
     NOTE    :    1) Please click the Terms and Conditions button below to read the terms and conditions in details. 2)To apply for this vacancy click on HOW TO APPLY below.