Advertisment Image: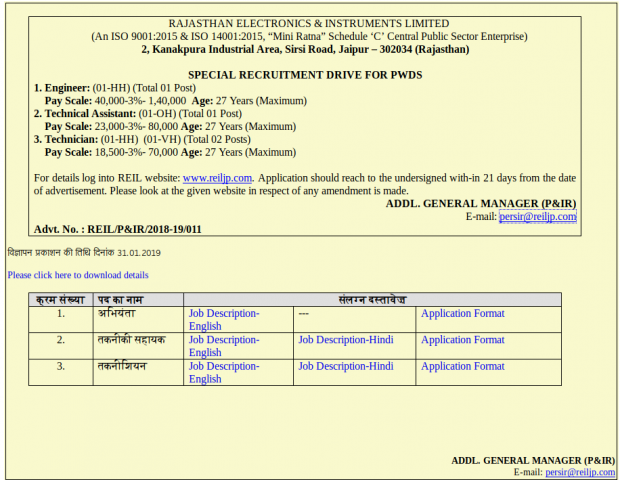 Job description :
JOB DESCRIPTION AND RESPONSIBILITIES:The Engineershall be placed in the field location and may be transferred at any place across the country. He/she shall report to post twolevels above, but if the circumstances so require may be asked on realization basis to report to an officer at any of the higher levels.The candidate should be able to Innovate solutions, undertake pilot projects and address customers' problem in respect of Milk Analysers and automation solutions, Renewable Energy SolarPV solutions. The candidate should beable to interact with Government officials and administrativeministries and the customers' respect of execution of projects and realization.The candidate shall be required to complete the project timely on the customer site as required, and ensure customers' satisfaction as well as timely realisation. The candidate maybe posted on assignment in the field locationsas required
.ELIGIBILITY:I.
AGE:Maximum 27years (as on 08.03.2019) II.
QUALIFICATION AND EXPERIENCEThe incumbent should be a graduate engineer in Electronicsand Communication/ Electrical/ Computer Science branch, with minimum 60% marks from a recognized University/Institution; the incumbent should be computer savvy.HOW TO APPLY The candidates are required to submit their applications as per the prescribed format only, available on Website, with copies of proof of date of birth, qualifications, experience, caste and a recent passport size photograph etc., in hard copy. The scanned copy of the application alongwith required documents may be sent to the e-mail id given in the advertisement. However, the hard copy of the application along with all supporting documents should reach to the following address within 21 days of this advertisement. The application(s) received after the due date will not be considered. The application(s) so received shall be acknowledged and application number shall be allotted, and accordingly application no. of the shortlisted candidates and finally selected candidates shall be hosted on Company's website. Candidates working with Government, PSU or Autonomous bodies etc. should forward their application through proper channel. Relaxation to SC,ST,OBC,PH,EWSs,Ex-Serviceman and Sports person would be given as per Government guidelines.Note: From among the received candidates, if sufficient qualifying applications are not received, the Company reserves the right to relaxthe qualifying criteria and select from among the remaining received applications. Candidate should be Computer savvy. Addl.
General Manager (P&IR)Rajasthan Electronics & Instruments Limited, 2, Kanakpura Industrial Area,Sirsi Road,Jaipur –302034 (Rajasthan
Education :
B.E/B.Tech/Engineering
Diploma
Course/Education